Results tagged ' Michael Young '
Right-handed pitcher Vance Worley was actually standing in Citizens Bank Park when he got the news that he was being shipped to Minnesota.  He was as shocked as the rest of us that his time in Philadelphia was at an end.  Sadly, the Vanimal is gone.  Phillies' top pitching prospect Trevor May will join him there as well.
In return, the Phillies got a young centerfielder.  Ben Revere, 24, hit .294 last year for the Twins with a .333 on-base percentage.  He also had 40 stolen bases and is being touted as a young Juan Pierre with excellent range in the outfield.  The downsides include his lack of power, minimal walks and below-average arm.  But he is under team control and therefore, very cheap.
It seems Revere's skill set could make him the new lead-off hitter; he has speed and gets on base.  While it is very sad to say bye-bye to the Vanimal and to May, this trade may pay dividends for the Phillies if they can use the money they are saving towards a bullpen piece or another outfielder.
Revere should fit in well in Philly.  In fact, his name alone is a combination of two historical figures with Philadelphia ties:  Ben Franklin and Paul Revere.  I suppose then, it was fate that brought him here.
Welcome, Ben!
The Phillies are not done yet as trade talks still linger.  The latest rumor has Michael Young, who is actually not so young at 36 years of age, possibly coming to Philly with half of his salary paid by the Rangers.  Stayed tuned…
UPDATE: Just a few quick notes on the Ben Franklin and Paul Revere comments above.  It seems we have some badly educated, wanna-be historians in the Twittersphere who question my references to the historical links of these figures in Philadelphia.  First, Revere was born in Boston and made several rides to visit the Continental Congress in Philly to report on the impending revolution.  Then, during the war in 1775, Revere was sent to Philadelphia to study the only powder mill in the colonies so that northern colonies could learn how to produce more gun powder.  So yes, Revere does have ties to Philly.  Look it up.
Even more shocking was someone questioning Ben Franklin's relation to Philadelphia.  No, he was not born there, but he lived there most of his life (around 67 years), died and was buried in Philly.  Oh, and he signed that little document called the United States Constitution in Philadelphia.  Anyone questioning that should be ashamed.
By the way, Ben Revere retweeted the photo I posted of him as Ben Franklin and Paul Revere.  So clearly, he enjoyed it :O) 
Photoshopping by Jenn Zambri Photography
Posted on December 7, 2012 at 4:48 pm

Filed in:

baseball, MLB, MLBlogs, Philadelphia Phillies, Phillies photos
Tags: baseball, Ben Revere, free agency, Michael Young, MLB, Phillies, Rangers, Trades, Trevor May, Twins, Vance Worley
'Tis the season to buy lots of crap!  Black Friday, Cyber Monday….here we come!  The Phillies began shopping early when they signed Kevin Frandsen earlier this month to a 1-year, $850,000 deal.  If Frandsen plays the way he did last year, that small chunk of change could wind up being the bargain of the year.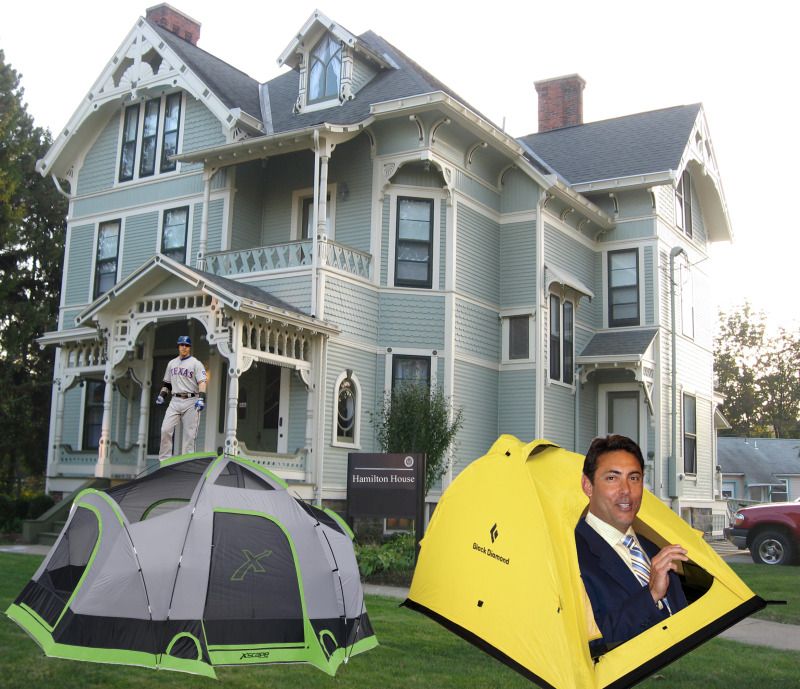 But the Phillies have a much longer shopping list than that.  Unfortunately, even on Black Friday, not everything is on sale.  Even if Ruben Amaro Jr. camped out in front of All-Star Josh Hamilton's house all night, I am pretty sure someone with more money would be camped out in front of him in line.  Fold up the tent, Ruben, and let's work on a more realistic shopping list.
– The first item on the list should be a centerfielder.  I hear our old pal Shane Victorino may come at a descent discount.  But the Phillies seem to be more focused on B.J. Upton, who could rival Ryan Howard for strikeouts.  They both strike out around 30% of the time and neither hit for average.  Regardless, this team needs to shop for an outfielder!
– Bullpen help is needed….badly.  Maybe the Phillies need to look back at a few guys they previously tossed in the trash?  Here are some oldies, but goodies: Our old pal Chad Durbin had a 3.10 ERA for the Braves last season.  And how about Jason Grilli, who was with the Phillies minor league system until they dumped him…he went on to record a 2.91 ERA for the Pirates last season.  But my #1 oldie would be Ryan Madson.  He is coming off Tommy John surgery so the bidding for him should not get too high.
– Third base: Personally, I feel a combination of Frandsen and a drug-free Freddy Galvis can handle the hot corner.  But if you are the type who MUST buy during holiday sales whether you need to or not, here is who might deserve a look:  Kevin Youkilis will be 34 in March, but the guy can still hit for power.  At 36 years, Michael Young is not exactly young anymore….but he would be a solid veteran to keep the spot warm for a much younger Cody Asche in 2014.
– While the team is stocked with starting pitchers, maybe a few small upgrades could help?  You know…get Roy Halladay a bionic shoulder to replace the bum one.  Buy Kyle Kendrick an "All I Want For X-Mas is You" tee-shirt to keep his confidence high.  And for Cliff Lee, donate to his favorite charity and make a pledge to get him more than 6 wins this year.
– Buy baby-faced Darin Ruf a pair of big-boy pants and put him on the big-boy team.  That gamble may really pay off.  What have they got to lose?  And J.C. Penney has a great Black Friday sale on pants right now…
– And the final big purchase for the Phillies should be a stand-up comedian.  When things start to go downhill for the Phils, the comedian can jump in and tell jokes between innings to keep spirits high.  Because as a fan base in 2012, we have all lost a bit of our sense of humor.  You cannot blame us though…losing is just not funny.  Help us all remember how to laugh and smile again!  And if the wins start coming, you can trade the comedian to a more needy team.
Happy shopping, everyone!
Amaro photo by Jenn Zambri Photography
Posted on November 23, 2012 at 1:13 pm

Filed in:

baseball, MLB, MLBlogs, Philadelphia Phillies, Phillies photos
Tags: B.J. Upton, baseball, Braves, Chad Durbin, Cliff Lee, Cody Asche, Darin Ruf, Freddy Galvis, free agency, Jason Grilli, Josh Hamilton, Kevin Frandsen, Kevin Youkilis, Kyle Kendrick, Michael Young, MLB, Off-Season, Phillies, Roy Halladay, Ruben Amaro Jr., rumors, Ryan Howard, Ryan Madson, Shane Victorino