Results tagged ' Johnny Cueto '
It took a torrential downpour to start the game, 4 runs, 11 innings and 4 ½ hours, but the Phillies finally pulled off a win against the Reds for a series split.  The win also vaulted them into 3rd place in the division.  Imagine being happy about 3rd place back in April…this has been a crazy year.
One person who was not happy about the rain to start the game was Cole Hamels.  He stated after the game, "We have these things called radar detectors and if you can't read them correctly I don't know what's going on."  After getting into trouble and allowing a run in the 1st while it poured, Hamels was probably having bad flashbacks to Game 5 of the 2008 World Series.  Officials did not call that game until after Hamels relinquished 2 runs to tie the game due in part to the sloppy field conditions.
But that game turned out pretty well, although not until several days later.  The start of Thursday's game was not delayed as it should have been, so his frustration is easy to understand.  But the extra-inning affair also worked out in the end.  Hamels went 6 innings and allowed 3 runs.
The offense had some issues as well.  It looked like no one could hit Reds pitcher Johnny Cueto until the 6th inning when the Phils finally scored 2 runs.  But once they got the game tied up at 3-3, things got every stranger.
The Phillies started getting on base, but there appear to be a brick wall at 3rd base that no one could pass.  In both the 8th and 9th innings, the Phillies had the bases loaded with only 1 out and did not score.  In the 9th Domonic Brown hit into a double play to end the inning, adding to the frustration.  They left 2 men on base with 1 out in the 10th as well. In all, the Phillies stranded 16 runners and went only 4-14 with runners in scoring position.
Throughout those many irritating innings though, the bullpen did an excellent job of holding the Reds at bay.  5 pitchers went 5 scoreless innings, including Phillippe Aumont who made his major league debut.  He tossed a scoreless 8th inning.
Aumont had been called up to replace Jeremy Horst who was on paternity leave.  But Horst returned, and also pitched, last night.  Aumont stayed and instead, Michael Schwimer was very quietly sent back to Triple-A.  So it appears the Phillies will get a longer look at Aumont to see what he can do.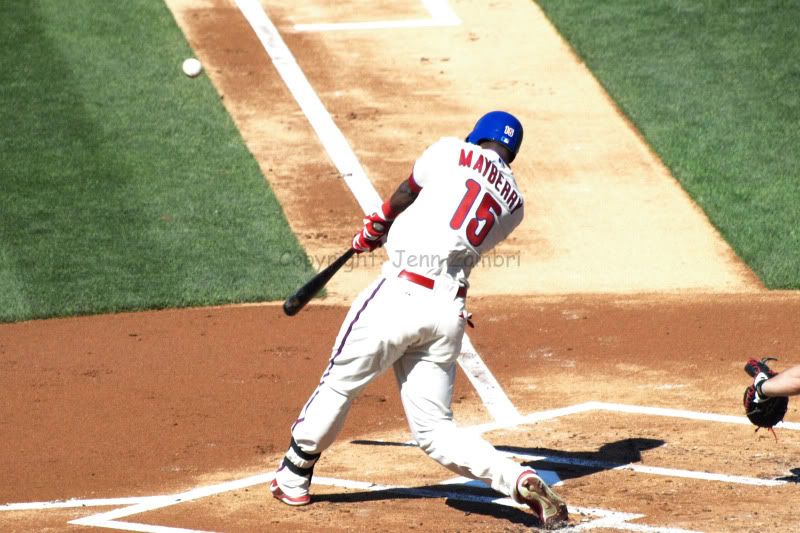 With the bullpen's solid effort, the table was set yet again for the Phillies in the 11th inning.  Finally, someone got a hit with the bases loaded.  John Mayberry Jr. singled to left to score Chase Utley for the walk-off victory.  After the game, Charlie Manuel expressed his frustration about all the previously stranded runners by saying, "I feel drained. Really. I kept waiting for somebody to come home."   Everyone laughed, which is certainly a lot easier when you have won the game.
And now the 1st place Nationals come to town.  There is just something very wrong about that previous sentence…sigh.  Game time tonight is 7:05pm.
Photo by Jenn Zambri Photography