Results tagged ' Charlie Morton '
Well it wasn't pretty, but the Phillies did beat the Pirates in two exhibition games this weekend.  Friday's game was damp and icky and today was WINDY and cold.  When I say windy, I mean the kind of wind that sends 5 giant trash cans at once hurdling across Ashburn Alley without warning.  At one point, I actually had to stop and hold on to something.  It was that bad.  And the players on the field had fun avoiding all of the floating debris.
The Phillies also had to avoid many, many bad pitches from the Bucos starter, Charlie Morton.  This guy was all over the place.  In the first inning, he was so bad that the game was stopped; I am not sure if it was to warn the managers or if the Pirates thought he was hurt, but both managers were spoken to.  The Phillies wound up scoring 4 runs in the inning after Morton hit 2 batters, walked 3 and threw 1 wild pitch (at least, officially it was 1).  Needless to say, there was a lot of dancing at the plate.

After scoring 2 more runs in the 2nd, the Phillies sort of went to sleep.  I, however, could not sleep, as I was freezing and being pelted in the face by 50mph wind gusts.  Although this did not seem to faze pitcher David Buchanan.  He pitched a scoreless 5 innings, allowing 2 hits and 2 walks.  The effort paid off as the Phillies announced that Buchanan will be the #3 starter behind Cole Hamels and Aaron Harrang.
So the Phillies went on to win by a score of 6-4, ending their Spring Training with 14 wins. Overall, it was a pretty bad spring with sloppy play and a serious lack of offense.  But none of it counts, so on Monday, we will see what this team has in store for us this season.  There are a lot of new faces and people playing new positions, so at the very least, it should not be too boring….I hope.
Hamels will pitch on Monday for Opening Day.  Game time is 3:05pm.
And here is the Photo Album from today's game.  See you on Monday!
Photos by Jenn Zambri
The Phillies took an awful loss to the Giants Wednesday night, only scoring one run for Cole Hamels who was outstanding.  Still, no win for Hamels.
This also put the Phillies in an unusual position, having to face Tim Lincecum on Thursday night with a chance to actually lose a series.  They had not lost a series since mid-June.  That streak would end against Lincecum.
Spot starter Kyle Kendrick would take the loss, although he did not deserve it, much like Hamels.  Kendrick pitched well through six innings, allowing just two runs.  But a lead-off walk and an error by third baseman Michael Martinez added one earned and one unearned run to Kendrick's final statistics.
The Phillies offense had some opportunities to score as Lincecum walked four batters, but they did not take advantage.  Chase Utley alone left five men stranded on base as he popped out once and struck out twice against Lincecum.
The Phils managed one run off the Giants bullpen, but again, missed opportunities were the plague of the day.  As a team, the Phillies recorded only five hits in the 4-1 loss.
This was a disappointing loss for the Phillies who will have to face the Giants again in only one week in  San Francisco.
Friday night's game will feature Roy Halladay against the Pirates pitcher Charlie Morton.  There has been some talk recently about how Halladay and Morton look alike, but personally, I do not see the resemblance: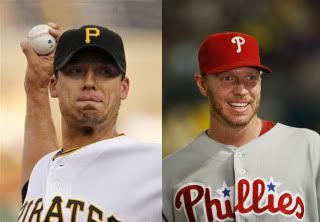 Oh, wait a second….now I get it: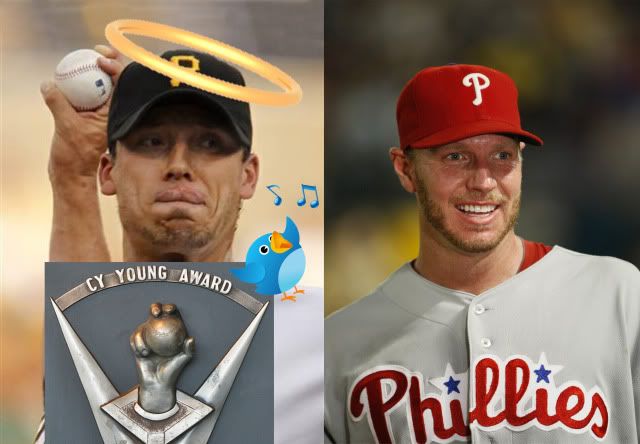 Twins, for sure.
Game time is 7:05pm on Friday.
"LIKE" us on Facebook for more updates & photos!
*Read more about the Phillies at my other home page, Phightin' Phils Phorum in the MTR Media network*