Results tagged ' Cesar Hernandez '
As Spring Training nears its end, the Phillies have a number of decisions to make. Some will be made a little easier with injuries and illnesses playing a role. Darren Ruf is out 4-6 weeks with a strained oblique and utility infielder Freddy Galvis is sidelined indefinitely with a nasty MRSA infection. MRSA is a drug-resistant staph infection that is very difficult to treat. Hopefully, Galvis will pull through soon.
With just those two injuries, it looked like there would be room after all for both outfielders Tony Gwynn Jr. and Bobby Abreu. But then Abreu sat out yesterday with shoulder soreness. There is no word on how serious it is, but this certainly may affect his chances of making the team. The Phillies have until tomorrow to decide.
They will also have to decide on whether to keep Ronnie Cedeno today as a utlility infielder. With Galvis now out of the picture, his odds are better. But the Phillies also have to consider Cesar Hernandez and Reid Brignac for that spot.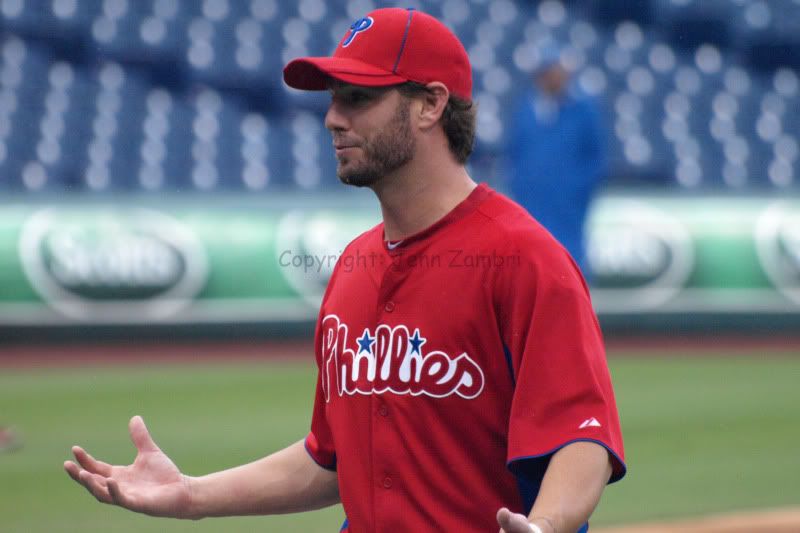 But the real shocker this week so far has been the Phillies decision to outright Kevin Frandsen. He now has to decide whether to go to Triple-A or become a free agent. Frandsen has brought a lot of much needed energy to this team the last several seasons, which were otherwise dull and depressing. He was also the best pinch hitter in the majors last year with 14 pinch hits. It would be a real shame to see him go. But I do not know if many teams are knocking on his door, so free agency may not be a good option for him (or wishful thinking on my part). If he takes the Triple-A option, he could still make the team at some point.
In other news, Cole Hamels says he feels "great." Is it just me, or have we heard this before? Don't hold your breath…it will be at least a month before he is ready to go, barring anymore "not great" feelings.
And as an interesting side note, the Phillies have announced new food items for the 2014 season at the ballpark. Hold onto your arteries before you decide to try the new hotdog topped with bacon and melted cheese or the burger with fried egg. My heart aged 10 years just thinking about eating that.
6 days until Opening Day…
UPDATE: Frandsen just opted for free agency.  I am sad :(  He will be sorely missed…best of luck to him!
"LIKE" us on Facebook for more updates & photos!
Photo by Jenn Zambri Photography
An odd thing happened today.  The Phillies actually showed signs of life as they swept the division leading Braves in a 3-game series.  Inspired baseball is not something we have seen a lot of this year, so this game was a real treat.
On top of his game again, Cole Hamels pitched 8 innings, allowing only 2 solo homers, both of which were absolutely murdered off the bat of Evan Gattis.  The official word is that the 1st homer went 486 feet, which is a MLB record for the season.  Yikes!
But aside from Gattis, Hamels had few problems.
The Phillies scored two runs in the first inning, but could not seem to kick start a rally after that despite some base runners.
Actually, base running was a bit of an adventure on this day.  Jimmy Rollins stole a base, which was a plus.  But rookie centerfielder Cesar Hernandez got picked off right before that and then was thrown out later in the game because he hesitated going around second base.  He received a bit of coaching from Chase Utley in between innings (see photo):
The defense was solid and fans were oohing and ahhing again over Cody Asche, who made a few more spectacular plays.
With the game still tied in the 8th inning, the Phillies needed a spark.  Darin Ruf provided the juice, and the lead, with a solo home run, his 13th of the year.
The Phils went into the 9th with a 3-2 lead and, luckily, passed on Jonathan Papelbon who had blown a save the night before.  Papelbon also pitched 3 out of the last 4 days.  So instead, B.J. Rosenberg pitched a clean 9th inning for his first career save.
Here is the Photo Album from Sunday's game, including a bunch of pre-game photos.
The Phils are off tomorrow and will face the Padres on Tuesday at 7:05pm.
Photos by Jenn Zambri Photography