Results tagged ' Alex Sanabia '
The Phillies looked like a shell of a team last night against the Miami Marlins, who are possibly the worst team in all of baseball.  Leave it to the Phillies to make them look like All-Stars.  Ugh.
When Domonic Brown smacked a home run in the second innings, it looked like the Phils might have carried over some momentum from Sunday's dramatic walk-off win.  But that was the end of the momentum and the beginning of Spit-Gate.
Marlins pitcher Alex Sanabia entered Monday's game with a dismal 5.00 ERA and a 2-6 record.  After the Brown homer, Sanabia apparently thought some cheating was in order.  He was caught on camera spitting on the ball and did not make any attempt to hide it.
First of all, this is just gross.  It is also against MLB rules.  But did it really affect the Phillies hitters?  Probably not too much…they have basically sucked all season long.  However, it did add insult to injury in this very unsettling loss.
Even Cole Hamels could not hide his emotions as he slammed his glove around on the Phillies bench after his outing.  And after the game, he did not speak to reporters.  I believe Hamels is feeling the same frustration we all are; specifically, WHY can't this team score runs?!  Poor Hamels is now 1-7 on the season.  Last year, he had 6 losses for the entire season…already this year, not even half way through the season, he has that total beat.
Two runs allowed in 6 innings should get you a win…unless you are on the Phillies, apparently.  Making matters worse, this team is now riddled with injuries.  Carlos Ruiz came back after his suspension to play only 16 games before being put on the DL with a strained hamstring.  Mike Adams is on the DL with a bad back.  John Lannan is still on the DL with no expected return date being reported.  And now Ryan Howard has sat out 2 games in a row with a sore knee and possible a torn meniscus.
And at least half of the bullpen may as well be injured; they might actually pitch better.  Because our healthy pen cannot stop runs from scoring.  Phillippe Aumont gave up 2 more runs last night and has a 4.15 ERA, plus many inherited runners have scored on him.  Pretty much everyone in the pen is guilty of that too.  And check out some of the other ERA's: Chad Durbin, 8.10; Jeremy Horst, 5.09; BJ Rosenberg, 20.25 (1 game).  Yikes!
As all the crap keeps piling up on this team, it is going to be harder and harder for them to dig their way out of the heap.  And I do not want to hear anyone else talk about how it is still early in the season.  As far as I am concerned, it is never too early to play winning baseball.  And thus far, this team has not shown they can do that.
Game time tonight is 7:10pm; Tyler Cloyd will pitch.
Photo via NBC Sports
After Hurricane Irene wiped out the last two games scheduled between the Phillies and Marlins in late August, both were rescheduled as a day/night doubleheader on Thursday, which otherwise would have been the final off-day of the regular season for the Phillies.  Fittingly, it was windy and rainy throughout the day, but baseball finally prevailed over weather.
Day Game
The Phillies came away with a 3-1 win in the first game of Thursday's doubleheader.  Kyle Kendrick started the game, but was only allowed to go five innings since he had not pitched in a while.   The precautionary move was understandable, but Kendrick pitched very well so it was a shame to see him pulled early.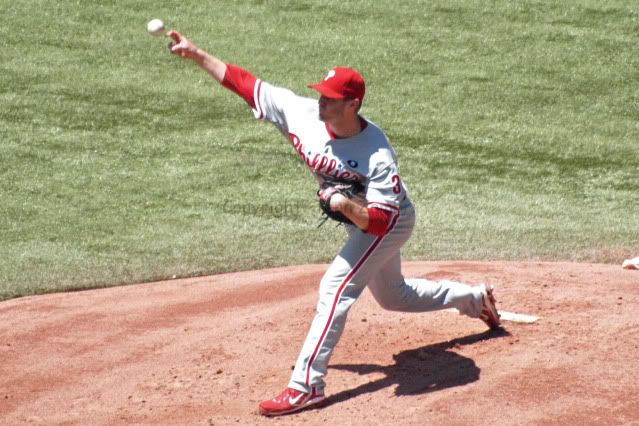 Kendrick allowed only two hits, one of which was a home run.  He also struck out six batters and did not issue any walks.  Kendrick's early departure opened the door to the Phillies bullpen.
First up was Michael Stutes who pitched two scoreless innings, although he did have several base runners.  Stutes was not terribly sharp, but he got the job done.  Actually, no one looked great coming out of the pen in this one including Antonio Bastardo, Brad Lidge and Ryan Madson.  But although the innings pitched were a little sloppy, they did not allow any runs.
Bastardo, however, is becoming a serious concern.  The once unhittable 8th/9th inning lefty has looked very human in this past month.  So noticeable are his struggles that manager Charlie Manuel did not hesitate to pull him after Bastardo allowed a double and a walk.  If Bastardo cannot get it together soon, using the bullpen in the postseason is going to be a real adventure.
As for the offense in this game, there was not much of it.  Placido Polanco and Raul Ibanez each had 2 hits and 1 RBI.  Ibanez hit his 30th double of the season which means he has now had at least 30 doubles each year for 10 straight seasons.
But the rest of the offense basically took the day off.  There were hits scattered here and there, but all those runners were stranded on base.  They even loaded the bases in the 8th with 1 out and failed to score.  Ryan Howard's slump continued as well; he is 0 for his last 16 at-bats.
Defensively, Pete Orr had quite a game at second base.  He made multiple diving grabs and ice-cream coned a short fly ball after jumping about four feet off the ground to get to it.  He probably saved the Phillies a lot of trouble.
So despite the lack of fire power and slightly sloppy pen performance, the Phillies recorded the win.
Night Game
The offensive struggles from the first game of the doubleheader carried right on over to the second game.  The Marlins started Alex Sanabia, a young pitcher who spent the whole year in the minors.  So things looked good on the surface for the Phillies.
But the winds grew stronger as the sun went down.  Fly balls that were hit hard wound up cycloning backwards away from the outfield wall, putting fly balls in play that may have been doubles or homers in calmer conditions.
Chase Utley made his first start since getting hit in the head with a pitch last week.  He had a pinch-hit single in the day game, and barely scratched out a hit in the night game against the Marlins bullpen.  The only two players who seemed to have Sanabia figured out were John Mayberry Jr. and Ross Gload, who both had multi-hit games.
The Phillies had not scored yet when Mayberry finally cut through the strong winds with a line-drive solo homer in the 6th.  That would end up being a very important run for the Phillies.
With Cliff Lee pitching, the Phillies had a good chance that the one run would hold up.  Lee kept the Fish at bay, despite allowing a bunch of base runners.  He was amazing, as usual, and even had one of the few Phillies hits in the game.
But just when it looked like this game was in the books, Lee got to two outs in the 9th and, for the second time this year, gave up the tying run.  The solo homer took all the air out of the balloon as the crowd sighed in disbelief at the 1-1 tie.
After the game, Lee said, "I can't think of a worse scenario."  He hit the nail on the head.  But lucky for Lee, Ryan Howard emerged from his slump and hit the baseball on the head.  After Michael Martinez walked in the 10th, Howard doubled to score him for the walk-off, extra-innings win.
Whew!
FYI – Michael Schwimer had pitched the top of the 10th and this turned out to be his first major league win.
Division Magic # – 2 games
Home Field Advantage Magic # – 3  games
"LIKE" us on Facebook for more updates & photos!
Photos by Jenn Zambri Photography
*Read more about the Phillies at my other home page, Phightin' Phils Phorum in the MTR Media network*